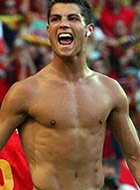 3. Cristiano Ronaldo: Portugal
Date of birth: 5 Feb 1985
Height: 184 cm
Weight: 75 kg
Position: Forward
Current Club: Manchester United (ENG)
You don't get much hotter than Cristiano Ronaldo Santos Aveiro.
This 21 year old is one of the sexiest young talents in world football.
With his surging runs and dazzling skills performed at blistering pace,
comparisons with his Brazilian namesake have been inevitable. Born on the
island of Madeira, he began his footballing career at the age of 17. His
rise to stardom since then has been nothing short of meteoric.