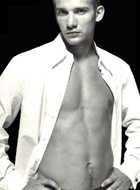 4. Andriy Shevchenko - Ukraine
Date of birth: 29 Sept 1976
Height: 183 cm
Weight: 73 kg
Position: Forward
Current Club: AC Milan (ITA)
Andriy Shevchenko has faced the seemingly impossible task of
hauling his country along the path to Germany practically single-handed.
Top scorer for his team and one of the most prolific in the European zone,
the Ukrainian ace justified the faith of a nation every time he turned
out. This 30 year old is a stunning looker, quite happy to model in front
of the camera wearing very little indeed. This makes us very happy and
should be encouraged.